Come Visit Westboro Dental
Make your dream smile a reality!
WESTBORO DENTAL CLINIC SERVICES
Dental Restoration and Implants to Replace Missing Teeth
For missing or unsalvageable teeth, dental implants are used as a permanent replacement and have a very high success rate.
Caring for your implants is important to ensure your overall oral health. If you have any issues, please come see us before your six-month recall visit.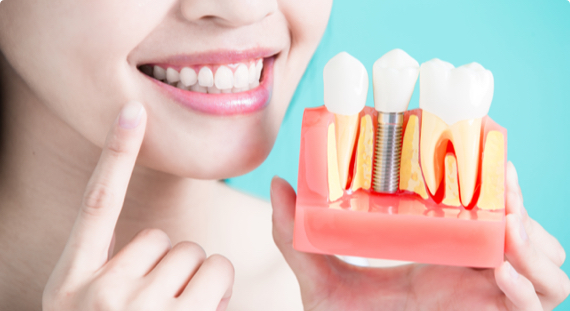 What's the single best thing you can do to ensure you will have long-lasting implants after restoration? Practice good oral health by brushing twice a day and flossing once per day. There are interdental brushes that can be used to slide between teeth which help hard-to-reach areas around your implant. It goes without saying, smokers should quit, but when it comes to your implants, smoking can weaken your bone structure and contribute to the failure of your implants. Do your best to avoid chewing on hard items like ice and hard candy, which not only can break your crown but also break your natural teeth. Visit us regularly for cleanings and exams every six months to be sure your implant is and stays in good condition.
Once an implant becomes cracked, chipped, or loose, it's important you come see us right away, so that we can restore it or replace a missing tooth and improve your smile with state-of-the-art procedures.